If you follow my instagram stories, you may have noticed my semi obsession with acrylic (a clear high grade plastic made primarily from petroleum, also known as lucite.)  I love the stuff and can't get enough of it.   I basically troll the Rose Bowl Flea Market every month for any and all things acrylic.  We have acrylic containers, sculptures, book cases, light fixtures…the list goes on and on. They just look so cool and modern and fresh and they never yellow.
That's why I totally freaked when I saw Mixbook has created acrylic frames you can order with your favorite photos and they are insanely gorgeous.  I grabbed one of my favorite photographer friends recently and did a mini photo shoot in preparation.  I knew I wanted some great family pics to really pop in the acrylic frames. And, of course, I had to go all process art on them. Check out our temporary family photo paintings.  You can change your photos over and over and easily wipe them clean and mess free in a matter of seconds.
Materials
You'll need…. Mixbook acrylic framed pics  (you can try the metal one toos, which we also got. they're way cheaper and still super awesome and fun to paint on. see the one of our cute little dog Billie below for an example.)
chalk markers (these
are our faves)
a few paper towels
Steps
1. Once you order your framed pics (super easy to do.  use the code MC50 to receive 50% off on your order through May 31st)  set them out on a table with the chalk markers and a few paper towels.  We sat down as a family and everyone instinctively just started drawing on the frames.  My kids are pretty familiar with chalk markers, so they knew they could easily wipe them off with the paper towels.
2. I wasn't sure if my kids would want specific directions, or just go in freestyle, so I asked them.  "Do you guys want to play Simon Says Draw (for example, I might say, Simon Says make everyone have crazy hair or Simon says make your background into an ocean) or just do whatever designs you want?"  They voted for whatever designs they wanted.
If your kids like more structure, you can create lots of games to go along with your temporary acrylic frame paintings.  You could write different themes or animal names or clothing items on a piece of paper and put them all into a bowl.  Everyone can take turns picking a paper and use the ideas as drawing prompts.  You could make patterns, write words in speech bubbles, design new clothing.  The list goes on and on.
My girls, ages 4 and 5, loved giving everyone pink hair, and then eventually turning everyone in our family into mermaids.  They are obsessed with mermaids.
Anytime they did something they didn't like, they'd just wipe it away with a paper towel. Easy peasy.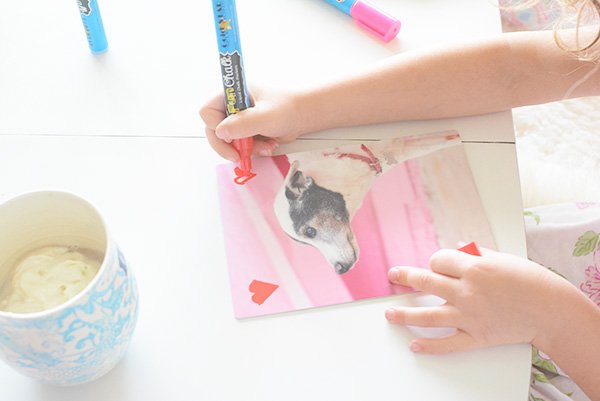 Of course we couldn't leave out little Billie, our Jack Russel.  This one is on metal and as you can see, still super cute and durable.
And here we are as mermaids.  Shell bras and all.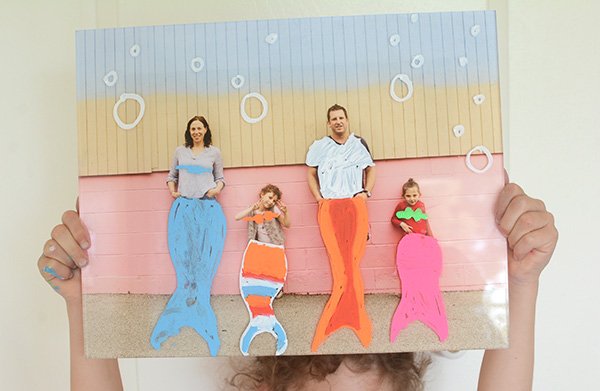 I'm sure in a few days I'll wipe them all clean again.  My daughter already took one off the wall and redid it this morning.
We really love our frames, both with chalk markers and without.  I'd love to add a few to our collection each year and hang them all on one wall in all different sizes.  If you order any, definitely use the discount code MC50.  You'll get 50% off you're entire order.
Thanks for reading along.  Tag me on instagram if you make any temporary family photo paintings.  I'd love to see them! xo, Meri
*This post is sponsored by Mixbook.  All opinions are my own.