I am so excited about this post! If you've seen my
instagram stories
lately you may have caught glimpses of
My Rainbow Book
that I've been working on.  When I first had the idea to make a process art rainbow book, I thought it was a cool idea, but now actually holding it in my hands and seeing it in action, it's a whole new level of cool! This book is super fun and just has my wheels turning on other interactive process art books we can put together.
The thing about process art is that it's all about connection.  Some people connect with their children by cooking together.  Other families connect by playing cards or hiking.  There are tons of ways to connect.  Process Art is the way that I connect with my family and I invite you to join us through all the projects we share.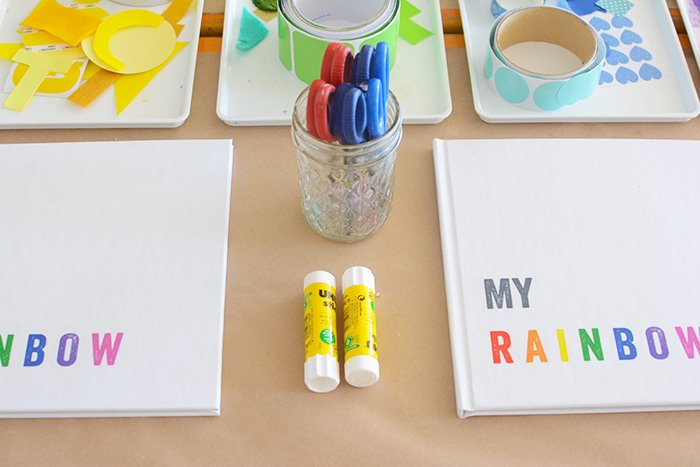 My Rainbow Book is already made and ready to go by clicking this link here.  Plus, you can use the limited time 40%off coupon code MERI40. I made it on Mixbook.  It's super easy to make your own book by going to a blank canvas but you can make it even easier and just order this one already made.  There are lots of ways to use the rainbow book.  Here is how we made ours.
Materials
You'll Need…
My Rainbow Book (Use discount code MERI40 for 40% off!)
trays or bowls to hold different colors of the rainbow supplies (these trays are from ikea. they are lids to containers)
art supplies in different rainbow colors. we used shape stickers
, rainbow washi tape
, tissue paper shapes, and sharpies.
glue sticks or white glue
I could have taken pics of the all the rainbow materials for the rest of the day but I'm weird like that. Don't they look so pretty though?
On the first page your child can write their name.  I love that right away the kids are taking ownership of their books.  Another reason I love process art is it's all about the individual making the art.  Their ideas, their choices, their pace.  Look at the determination and engagement on my girl's faces below.  Too good.
Process
Step 1  Sign your name.  This is your book kids.  Enjoy it!
Step 2 Set up trays of different colors and invite your child to show their rainbow.  They can show it any way they want.  My kids stuck to the matching colors of each page but yours may not.  Part of the specialness of these books is that no two will look the same. Everyone will interpret their rainbow differently.
You can also split the book up and do a different color a day.  I think that could work really well.  You can always have the next color tray ready in the waiting for when your child is ready.
My girls did their colors all at once, skipping around to different pages.  I noticed when I sat down and worked on mine with them their attention was much more focused and they stayed engaged longer.  This is often the case with my kids.  The more I'm a part of things, the more they like it, and the more we connect.
Markers, oil pastels, or paint markers are a great addition, especially if your kids want to add a story or words that are a certain color.  You can make lists of different things that are yellow, or green or blue.
You can talk about shades of colors, dark and light, names of colors, patterns, all kinds of bigger ideas.
This is a page from my book below.  My girls LOVE the interactive direction of pulling a piece of orange tissue paper to display a rainbow.  That was a big hit.
Process Art Rainbow books make great gifts, especially with the holidays coming up.  You can even put a little bag of art supplies with it, like markers, rainbow washi tape and some paint markers.  So cute!
I'm very happy to say we have a few extra books tucked away as special gifts for different readers who love process art and believe in the process art lifestyle. More to come on that.
In the meantime, I hope you feel as inspired as we do about these books.  My girls have been requesting I read them mine and tell them different stories about each page.  We plan to add different designs and details over time.  It's a work in progress, which I love.
The pic below is why I do process art with my kids.  We talk, share ideas, get creative, and love one another.  This is process art.
If you'd like to see more ideas that focus on the making and the doing, rather than the finished product, check out
Thanks so much for reading along and thanks so much to Mixbook for helping me make these great rainbow books! xo, Meri
*This post is sponsored by Mixbook.  All opinions are my own.